Cockburn Historical Society
The Historical Society of Cockburn is a non-profit volunteer organisation open to all members of the public. The Society was formed in 1975 by a number of local residents concerned about the preservation and recording of the cultural heritage of the Town of Cockburn.
The Society assisted in the restoration of the Azelia Ley Homestead in Manning Park which opened in 1975, and continues its involvement as custodians of the museum, opening to the public every Sunday afternoon.
Members also maintain close contact with the community servicing people who live, work and visit the City of Cockburn planning and providing not only special events through the year that attract young and adult audiences but also acquiring and conserving the museum's collection for the purpose of education and enjoyment.
Contact the Historical Society
Please contact the Museum for queries regarding the Historical Society on:
(08) 9418 6648 or via the Contact form.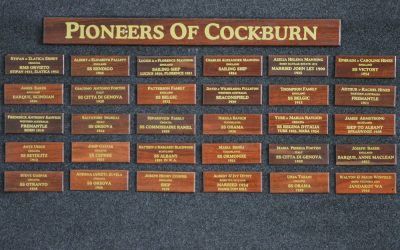 The Historical Society of Cockburn are calling for local families to register their family name on the Pioneer Board.